FICTION PARADISE LOST
Ayad Akhtars Homeland Elegies is a multilayered novel auto-fiction to be exact whose breadth and brilliance is hard to convey. In this hybrid work, fact and fiction blur, echoing the tragi-comic age of Donald Trump. What stands out in this masterpiece is the ear of the author for fast-moving dialogue with its unexpected rhythms of conversation and drama.
The protagonist, who shares the authors name, is a blend of many voices and characters. The author Akhtars American pastoral begins in Pakistan, where two medical students in Lahore get married and migrate to America in 1968. Their son, the novels fictional Akhtar like the author himself is born in Staten Island in 1972. Subsequently, they move to the state of Milwaukee in an upper-middle class, white Republican neighbourhood. The novel then tells the immigrant familys story through a sons relationship with his father at a time when truth, decency and hope are collapsing in a polarised nation addicted to racism, debt and wealth.
Recently, the Atlantic Council in Washington DC held a conference on Homeland Elegies, ably conducted by Shuja Nawaz, a former director of the councils South Asia Centre. I took the opportunity to point out to Akhtar that his novel had widened the American literary canon by including the immigrant Muslim-Pakistani-American experience, just as Philip Roth had widened the literary canon in the 1960s to include American Jews.
Shamila Chaudhary, president of the American Pakistan Foundation, said she really enjoyed reading the novel while Nawaz remarked that, with his observant eye, keen wit and brilliant turn of phrase, Akhtar was cementing his place as one of the foremost creative writers in the United States today.
Homeland Elegies is seen by some as an elegy for America, a paradise supposedly lost under Trump. But it is also an elegy for Muslim immigrants, for whom America never was a paradise in the first place, especially after 9/11. This novel shows what American life is like for people with brown skin, even if they are upwardly mobile. The novel, of course, has a much wider canvas. It explores family, politics, art, money, sex, religion and racism, as they exist in America today.
At its core, the novel is a rejoinder to the impression that Akhtars Pulitzer Prize-winning 2012 play Disgraced evoked in many of his critics. It was amusingly called Who is Afraid of Osama bin Laden? by Ron Charles of The Washington Post. The play takes place in a Manhattan apartment where Amir, a successful Muslim Pakistani lawyer, and his white American wife are sharing a dinner of pork tenderloin and scotch with a couple of friends. At a climactic moment, one of the American guests asks Amir if he felt pride when the planes smashed into the twin towers on 9/11. With some hesitation, Amir answers, If I am honest, yes. Pride about what? asks the guest. That we were finally winning, replies Amir.
Pulitzer Prize-winning author Ayad Akhtars latest novel is an elegy for America. But it is also an elegy for Muslim immigrants, for whom America never was a paradise in the first place
Since a play, by definition, thrives on omission where the dialogues never speak the whole truth, Akhtar now tackles that central impression of Disgraced in a comprehensive, sweeping novel, which is part fiction, part memoir, and part essay on culture and history. Paradox is the name of the game that runs through the entire novel, expressing the loneliness, the longing, the dispossession and the pining for ones true homeland.
Time and again, fictional Akhtar wonders: is he American or Asian? Is he Muslim or secular? Without trying to be a baker who praises his own bread, let me say this is precisely the dilemma I faced in America when I first migrated to this country over 40 years ago and wrote my essay The Dilemma of Becoming an American. I suspect many a Pakistani immigrant faces this same general conflict.
In his first novel, the coming-of-age American Dervish, author Akhtar told the story of his pre-9/11 childhood in Milwaukee and how he came to terms with Islam. The multifaceted Homeland Elegies, however, is an attempt to come to terms with his complex multiple identities in a post-9/11, Trumpian America.
President Trump looms large in Homeland Elegies. The first chapter has his name in the very first sentence. The fictional Akhtars father treats Donald Trump in the 1980s for a heart problem as his personal cardiologist, and becomes so terribly fascinated by Trumps charismatic personality that he keeps a copy of Trump: The Art of the Deal in his living room in Milwaukee. According to fictional Akhtar, it is Trumps terrifying lust for unreality that has seduced his father. So in 2016 he votes for Trump but, as the novel progresses, the father gets terribly disillusioned.
In the novel, fictional Akhtar takes on his parents opposing perspectives on America. The one of his father is that of infantile, rampant, moneyed individualism, an outrageous vision of American exceptionalism. The one of his mother is a very different worldview, one of postcolonial rage, which she shares with the Pakistani Muslim community in Milwaukee that sees American society as illegitimate. Her description of America is of a foreign place: The longer we stay in the USA, the more we forget who we are.
Although this novel is a restless exploration of what it means for a non-white person to be American, the author has no pat answer to this question. All he has is a paradox. In one pivotal scene, the protagonists car breaks down in Pennsylvania. The state trooper who comes to his assistance is helpful and friendly, until he asks about his name. Fictional Akhtar tells us that, after 9/11, he has started wearing a cross around his neck to ward off suspicion. He tries to dodge the question, but once the trooper realises that Akhtar is Muslim, his attitude changes.
In another traumatic scene in the novel, fictional Akhtar wets himself in terror after being harassed by an Islamophobic man as he waits to give blood at St Vincents Hospital in New York Citys neighbourhood of the West Village. The haranguing is followed by the remark, Cant wait when we build the wall to keep you critters out.
No wonder, therefore, that the author complains in his lyrical overture to the novel: My tongue, too, is home-grown every atom of this blood formed of this soil, this air. But these multitudes will not be my own. And there will be no songs of celebration. In short, is living in America for a brown Muslim like living in exile?
Paradoxically, he ends the novel with the question by a local American: If you dont like it here, I dont really understand why you dont just leave. To which fictional Akhtar replies defiantly: I am here because I was born and raised here. This is where I have lived my whole life. For better, for worse and its always a bit of both I dont want to be anywhere else. Ive never even thought about it. America is my home.
In short, we Muslim Americans are not going anywhere. We are here to stay and America will simply have to live with that.
The reviewer is a retired diplomat and author of five literary books. His forthcoming book is titledA Wanderer Between the Worlds
Published in Dawn, Books & Authors, January 17th, 2021
FESTIVAL: PEN VERSUS THE SWORD IN KP
FICTION: ETERNAL SUNSHINE OF THE SPOTLESS MIND
یاماہا نے موٹر سائیکلوں کی قیمتیں بڑھادیں
مس مارول میں پاکستانی کرداروں کو بھارتی لہجے میں دکھانے پر شائقین نالاں
پیٹرول مہنگا ہونے پر قیدیوں کو عدالت لانے کے بجائے بذریعہ ویڈیو لنک حاضری لگانے کا حکم
Bangladesh officials accuse depot operator over blast that killed at least 49
Farmers demand fresh planning for food security in upcoming budget
As budget inches closer, salaried professionals foresee mounting pressure of new taxes
Beg, borrow, steal for the economy: Mian Mansha
Can Pakistans friends abroad help with forex support?Capital polices Special Branch to audit security arrangements of foreigners

Zendayas Euphoria and Spider-Man: No Way Home win at MTV awards
Colombian singer Shakira and footballer Gerard Pique confirm they are to separate
Sip your problems away with this easy mango lime cooler
Counsel says FIA wants to arrest PM Shehbaz, Hamza in Rs16bn money laundering case
Why did countrys defenders not stop conspiracy? asks Imran
Rare consensus among rivals on ISIs role in civilian setupISI given legal cover to screen government officialsRs1.45tr likely to be allocated for armed forces in next budget
Indian climber banned for faking Everest ascent reaches summit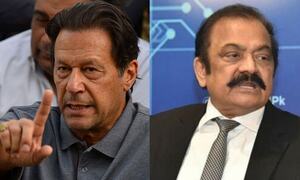 Rana Sanaullah welcomes Imran as PTI leaders confirm return to Bani Gala for core commitee meeting
Will playing havoc with public order enable PTI to force early elections?An unstable political environment is detrimental to efforts to heal an ailing economy.
Editorial: It is high time Pakistans ruling elite share the burden of belt-tightening with common citizens
The truth about Pakistans Russian oil deal prospects
Afghan musicians in Peshawar: Pushed into exile, they now face fear of deportation
The net impact of the oil industrys liquidity crunch
An unstable political environment is detrimental to efforts to heal an ailing economy.
The government must impose highly visible, across-the-board austerity measures on the ruling elite immediately.AS fuel prices go through the roof with more shocks likely the state needs to seriously revamp the public...THE government has attracted significant flak for officially empowering the ISI, the countrys premier spy...FIFTY years ago today, countries worried by the pressing environmental concerns faced by a planet they shared, came...ON the back of a disastrous World Cup campaign, the Twenty20 and One-Day International series wins against Sri Lanka...
An investigation team needs to determine why a superstore was allowed to turn a residential buildings basement.
Counsel says FIA wants to arrest PM Shehbaz, Hamza in Rs16bn money laundering case